김호원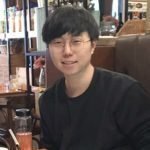 khw7517@snu.ac.kr

Howon Kim (Joseph) is currently enrolled in the Graduate School of Seoul National University International Studies, majoring in International Cooperation.
He aims to research cultural and social difficulties that the refugees in South Korea face when they integrate into the South Korean society.
He acquired Bachelor's Degrees in Political Science and International Studies from the University of North Texas (UNT) in 2017.
He was an active participant of UNICEF UNT and served as a Secretary for Korean Student Associations (KSA) for year and half.

After the graduation, He not only had the privileges to work with staffs with diverse different social, political, and economic backgrounds, but he also had a chance to interact and mingle with refugees from diverse countries from Southeast Asia, Africa, to South America at both Refugee Services of Texas (RSTX) and International Rescue Committee (IRC) in Dallas, Texas.



At the RSTX, He was responsible for coordinating and administering different levels of English Classes for the refugees.
At the IRC, he provided all the required services to the refugees who were trying to resettle in a culturally unfamiliar place at the Reception and Replacement (R&P) Department. For instance, required services include medical supports, housing, school enrollments, and others.